Temporary Changes to Our Clinic Hours DUE TO COVID-19 (CORONAVIRUS) (27/March2020)
Dear Patients,
Due to restrictions imposed by the Australian Dental Association for the health and safety off all our patients and staff , our clinic hours will temporarily be 9am to 12pm Monday to Friday only . To see if we can help you with an appointment please call the clinic on 0451 690 418.
We apologise for any inconvenience this may cause but thank you for your patience and understanding whilst we all navigate this difficult time caused by COVID-19.
Stay safe and healthy and please don't hesitate to call us on 0451 690 418 if you have any questions or concerns.
For further information visit www.health.gov.au or call 1800 020 080 for any information regarding the Coronavirus.
Sincerely,
The Team at the Churchill Dental Studio
Coronavirus (COVID-19) Dental Practice Update (23/March/2020)
Dear Patients,
The current situation with the COVID-19 pandemic is very worrying for everyone and the situation for us here in Australia changes day by day in terms of disruption to our normal daily lives.
This is to inform you of what the implications are for your dental visits into the future.
From our Dental surgery's perspective, we have been utilising what are termed 'Universal Precautions'. What this means is that we treat every patient who attends our clinic in exactly the same way – we 'imagine' that every single person has an infectious disease, and we use all means at our disposal to ensure that there is no transmission of such disease – either real or imaginary. This means gowns (where appropriate), gloves, masks and protective eyewear are used by all staff at all times during treatment. All instruments and materials used are either (a) disinfected and heat sterilised (autoclaved) in individual sterilisation pouches or (b) are single-use, disposable materials (using disposable barrier sleeves over the places that are touched by the dentist and assistant during treatment) and (c) all hard surfaces in the vicinity of the surgery (including the chair surface) are thoroughly disinfected between each patient.
Your safety in our dental practice whilst undergoing treatment has always been assured.
There are, however, a couple of changes that we have made in terms of patient hand and oral hygiene and 'social distancing'. These are very simple measures that will help to keep us all safe and well, and are as follows:
The front door handle and the front desk area will be cleaned with a disinfectant wipe down after every patient/delivery person has entered or exited the surgery.
Patients will be asked to use the provided hand sanitiser when arriving, and before making transactions at the front desk after treatment.
We have spaced our waiting area chairs to maintain 'social distance' from other patients.
We have reduced our clinic opening hours and are refraining from appointing most non-emergency treatments until further notice.
Of course, if you are unwell in any way in the time leading up to your appointment, please call us immediately on 08 8262 3277 so that we can discuss this with you and make appropriate decisions.
If you have an upcoming appointment within the next 14 days, please ring us today to reschedule if you:
Have had contact with someone with a confirmed case of COVID-19.
Have returned from overseas in the last 14 days and not completed your self-isolation.
Are feeling unwell with flu-like symptoms such as fever, cough or sore throat.
The general (and dental) health and safety of all our patients and staff are of the utmost importance to us, and we look forward to helping you maintain your health and well-being both now and into the future.
Stay safe, stay well – and please don't hesitate to call us on 08 8262 3277 or text 0451 690 418 if you have any questions or concerns.
Yours sincerely,
The Team at Churchill Dental Studio
For further information visit www.health.gov.au or call 1800 020 080 for any information regarding the Coronavirus.
Thank you in advance for your cooperation.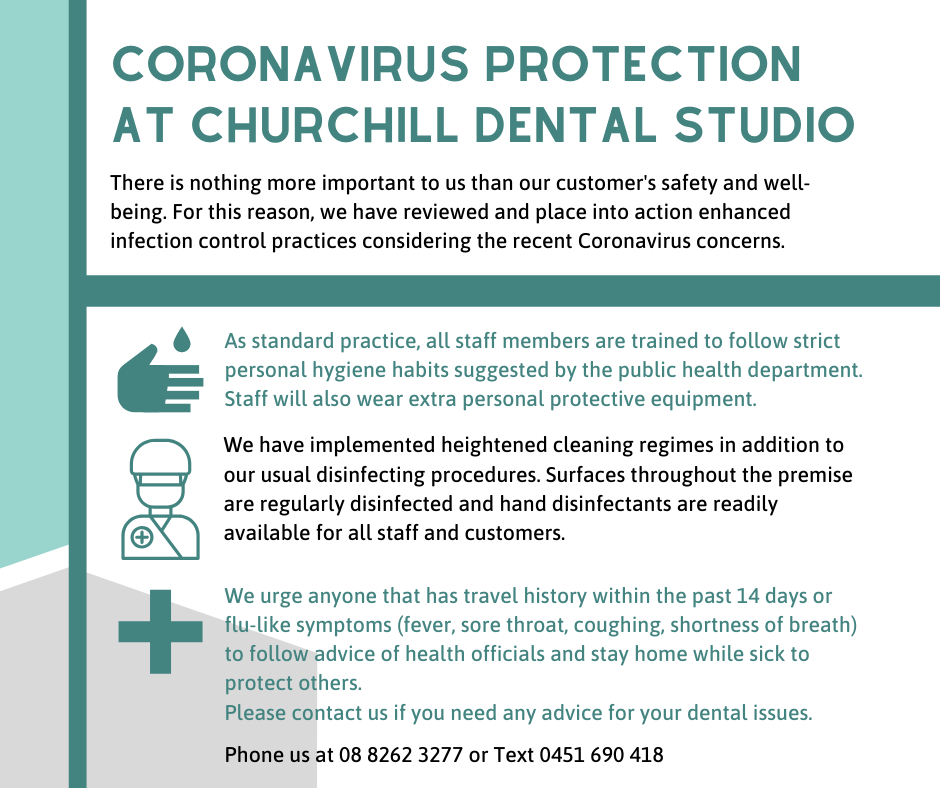 Location & Parking
We are located within the Churchill Centre in Kilburn. From the main shopping entrance outside Cole supermarket, we are on the left-hand side – you can't miss us!
Churchill Centre provides 900 free car parks on site, and with a range of grocery and fashion shopping available surrounding our practice, there is plenty to do while you wait for your appointment.
Monday - Friday       9:00 am – 5:30 pm
  Saturday                     9:00 am – 2:00 pm
  Sunday                        Closed